Hueman Theme Trick! How To Remove Yellow Background Under Adsense
Hueman is one of the popular WordPress themes many website and blog owners use. Due to this theme's ease when it comes to personalization, having multiple columns, being mobile responsive, multiple widgets and etc, that is why up to 70K+ websites around the world are being powered by it.
In this tutorial or call it a Trick, you will discover how to get rid of, and or Remove the Yellow background color (#fff486) which loads / shows below Adsense ads. For those of you who are using this theme and running Adsense ads on your Blogs, you may notice this color which usually as Blank but in Yellow.
By default, not only Hueman Theme does this but also many other themes use what is known as  ins attribute tags which are meant to wrap up advertisements like Adsense. This tag or code is found in the Themes  style.css, thus meaning that one has to edit  it and change the ins background color to that of choice.
But, how about those with less knowing about CSS and other edits yet having this background color gone is their dream? Well, if you are in a similar situation, you should worry no more since one of the options below will help you fix the above and turn your blog the way you want it appear.
Change color by Directly editing style.css Hueman themes file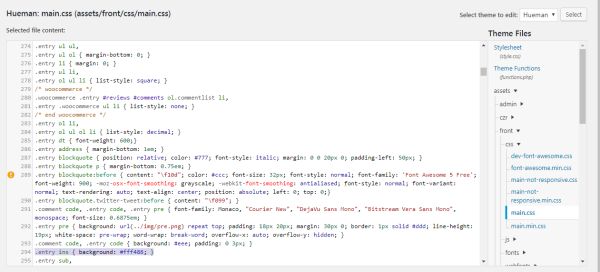 Caution: Before you go about this, you should be well aware of what you are doing. It is important for you to perform a back up of your site just in case you want to revert – assuming things go wrong. You should first switch to another theme before editing it. The main css stylesheet of the Hueman theme is located in /assets/front/css/main.css.
Log into your WordPress site as Admin.
Click Edit under Appearance.
Select the one to edit.
Click Assets, Front, CSS and Main.css.
Click CTRL+F on your keyboard.
Type "Ins" without quotes and hit enter.
Change #fff486 color to that of your choice eg #ffffff for white.
Click Update file and save your settings.
Change color using Custom CSS
By default, this has a custom CSS option which is intended for to do all customizations. This does not require you to switch your theme before. Don't forget to change the color to that of your choice. Follow the below.
Log into your WordPress site as Admin.
Click Customize under appearance.
Scroll and click Advanced options.
Click Additional CSS
Enter the code you see in image below.
Click publish and check your site.
Upon reloading your site, you should see the Yellow color under adsense ads gone. That is it.